Website Announcement
For several years, the Robert Burns Club of Milwaukee has been using a free hosting service (DotEasy). This past autumn, DotEasy discontinued offering free hosting for small, public-service websites such as ours. Consequently, we have had to locate a new host. VIRTUALimprint is donating space for our site. Even though the Club's domain (milwburnsclub.org) will resolve to the new locale, the change has forced us to change some email addresses. Please refer to our Contacts Page for details.
---
Newsletter Archive
Latest: Apr-Jun 2013
The Club newsletter is going electronic. We will be posting a newsletter archive online. Feel free to print or download a copy for your files.
---
Mither Wit and Native Fire
Written and Published by the
Robert Burns Club of Milwaukee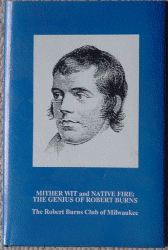 Prices reduced
Quantities limited